Every weekend since we've moved in, a project has been worked on. The work accomplished so far has been:

Wall knocked out between our bedroom and the bedroom next to it, creating one large bedroom/dressing area/office. New paint, carpet and tile throughout the two rooms. New blinds hung. Scott and Shannon did this one.

Guest bedroom painted from it's original pepto-pink with neon green and lavendar trim to seafoam blue with white trim. New blinds hung. Our friend Ed, Shannon, and I did this one.

Boat house cleaned out and dock rewired. Scott and Ed got this done.

Now, before you say it doesn't sound like I did much, please remember that I'm 9 years older than my husband, and somebody has to cook, clean the house and do the laundry while the other work is getting done. I've never enjoyed housework more! ;-)

So, today, Scott and I began work on this little project:
When we first saw the house, I thought this would make a cute little guest room - with a bit of work, of course. Everything you see inside that door was left by the previous owners for us to clean up. This picture was taken last August, and if anything, the mess was worse. So, we emptied out that shed, cut back the English Ivy, swept everything, and prepared it to be used as a storage shed for now, until we are ready both physically and financially to begin the remodelling work.
Our house sits on 1.02 acres of land, with most of the land being in the back, past this shed. I don't know how much you can see in the picture below, but it goes up a hill quite aways. Since even before we moved in, I've wanted to go to the top of the property and see how it looked, so today we hiked up to the top of the hill. Unfortunately, I didn't think about bringing my camera, because the view was awesome. The hill is high enough that the view clears our rooftop and is unobstructed out to the lake. Scott ultimately wants to put a deck up there.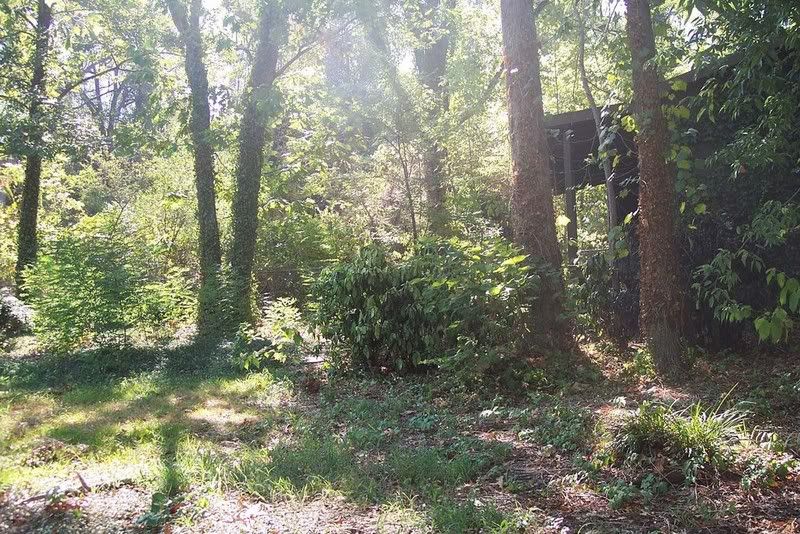 The little rain we got yesterday didn't do much for us, except to clear the air. Tonight will be a full moon, but it is very cold out there, so I don't think we'll be sitting outside looking at it.

Yesterday (2/10) in Quinlan
High Temperature: 55° F
Low Temperature: 36° F
Precipitation: 0.12 in