Tuesday, July 17, 2007
A picture says a thousand words....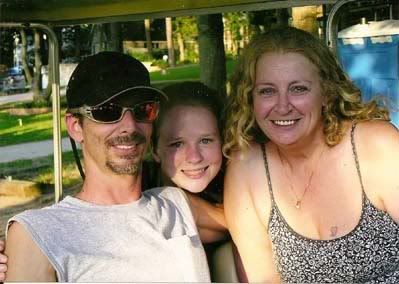 Sunday, July 15, 2007
Whew...busy summer!
I know I'm horrible about updating, but it has been a really busy summer so far. We've had a ton of rain, and the lake level is so high that most of our dock is underwater!
We had our annual BBQ on June 30, and it was a blast. We had about 60 people...the food was excellent, the weather held out, and all in all, it was wonderful!
My weight loss surgery was five months ago, as of yesterday. I've lost 54.5 lbs, and seem to be holding there. I'd love to lose another 25, but I'm ok with where I am.
Everybody is doing well here...Shannon's having a great time living at the lake. She's been working full-time, babysitting. She's been saving some money, tithing some, and spending some...as it should be :)
Scott is, of course, in his element, smoking and grilling meat all the time, fishing, taking care of the yards (a full-time job!), and having a blast enjoying the summer.
So, we're doing great!