I've put off this blog entry as long as I could, because it's just too hard...April began badly, and never let up.
Scott's mom, Linda, had been in the hospital since late January, and the doctors finally said there was nothing more they could do for her without exploratory surgery, which they didn't think she would survive. So we found a beautiful hospice care and moved her over in the last week of March. On April 1st, she quietly passed away.
Our lives were just beginning to settle back down from the time off work and travelling back and forth to Fort Worth that Linda's hospitalization and passing entailed. On April 12th, Shannon and I went into Terrell to get manicures, while Scott attended a crawfish boil at a friend's house four houses down from us. They had just finished Shannon's manicure and my pedicure, and were moving me over to the manicure table when my cell phone rang. I asked Shannon to grab it, which she did. The next words she said changed our lives forever - "What do you mean our house burned to the ground??"
My eyes welled up with tears as I looked at her. "Katie??" She shook her head no. "Misty??" Again, no. The manicurist finished putting on my sandals and helped me to the checkout desk. As I handed over the payment, my knees buckled and I started crying. I just couldn't grasp that my beloved parrot was gone...our cat was gone...and our house was gone.
I drove us home as fast as I could - in fact, the Terrell Fire Department was behind us and I left them in the dust. They were obviously on their way to our house, but as slow as they were driving, I wanted to stop and tell them just to go back - they'd never make it in time.
We pulled into the community and manuevered around the fire trucks and saw the charred remains of the house. Scott walked up to me and put his arms around me and I just broke down.
When the fire had been put out, and the smoke had cleared, this is what was left: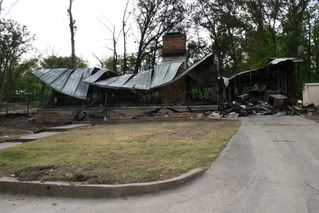 We handled the things that needed to be done, but I don't remember a lot of the next few days. The Red Cross was there, and put us up in a hotel room for a couple of days until our insurance could kick in. They gave us a debit card with money to replace our medications and buy some clothes, and to eat with. Some friends took us out to dinner the next day and gave us Kohl's cards to buy clothes. Thank God for these things...you just don't know how bad it is to be standing there with nothing but the clothes on your back.
On Monday, our insurance company sent an adjuster out, who declared the house a total loss, and gave us a check towards the contents to start rebuilding our lives with.
The insurance company moved us to a nicer hotel until more permanent arrangements could be made, and we were there for 2 weeks.
A week ago, we moved into a 37 ft. travel trailer on the property next door. This is where we'll stay until our house is rebuilt.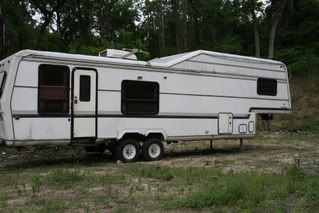 This has all been incredibly difficult. I'll be fine, and then all of a sudden, I'll break down. I alternate between anger and grief, and then back to hope.
People have said I've been handling this so "bravely", but really, what choice do you have? You grieve for what you lost, and then you move forward.
The insurance company was incredible...we were treated with kindness and respect, and at the end of it all, we'll have a brand new house....one that will be specifically designed to minimize the risk of fire. The official cause of the fire was "electrical". We suspect that animals got under the house and chewed the wires...we saw a mouse fleeing from the ruins, could have been him. But the new house will have its wiring encased in piping of some type, so the critters can't get to it.
We plan on building a log home. The company we're going to use, Satterwhite, is located about 90 minutes from here and we drove over there last weekend and really liked what we saw. Their representative came out this week to see the land, and make sure that we could actually do it...and of course, we can. It's our hope that we'll be in the new house by the end of summer, at the latest. The official build time is 6-8 weeks from when they actually begin, and then of course, there is the finish time required to do the interior.
Our annual BBQ will go on...it'll just be a bit more difficult, but hey, we're up to the challenge :)
So, work has begun on clearing the land, in fact, they're almost finished.
Rusty has grieved for the loss of his friends....he looked in the ruins for days for them. But as we try to get back into our routine, we've started running him again, and he's coming around.
I'll keep the blog posted as we progress through the build.